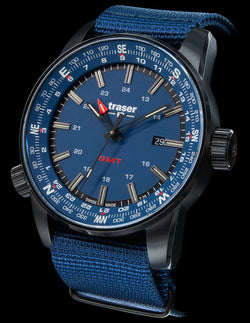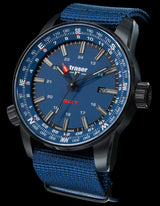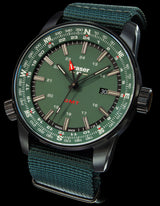 TRASER H3 P68 PATHFINDER GMT
SKU: H3-P68-GMT-BLUE-TXTSTRP
For globetrotters, explorers and trendsetters.
The Traser P68 Pathfinder GMT. Whether in the urban jungle, in barren deserts or travelling the seven seas, the Traser P68 Pathfinder GMT series shows you the time as well as the way. In five easy steps this outstanding timepiece can be transformed into a simple to use smooth functioning compass.
Define the hemisphere in which you are located
Make sure that the local time is set and that the sun is visible from your position
Point the hour hand in the direction of the sun
Halve the angle between the hour hand and twelve to find south
Turn the crown at eight to position the compass ring accordingly
Breathtakingly beautiful, unique, with a strong character and reliable 24/7, the Pathfinder is available in Blue or Green.
We ship from our own stock, held in our UK warehouse. Place your order by 15:30 Greenwich Mean Time for same-day dispatch.
United Kingdom
Orders over £30 ship free of charge.
EU
Orders below £200 ship for £6.00 
Order above £200 ship free of charge.
Rest of World
£12.50 shipping on all orders
Call us on 029 2167 1422 or Contact Us