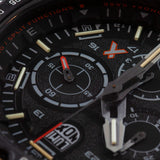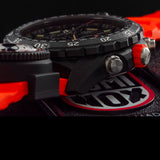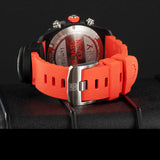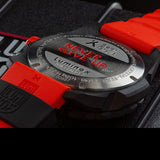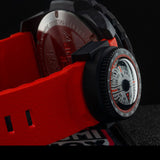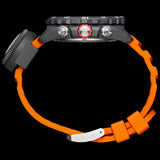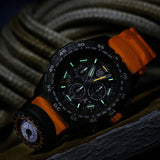 Luminox Bear Grylls Survival Outdoor Explorer 3749
SKU: BMC-XB.3749
The Luminox Bear Grylls Survival Outdoor Explorer 3749 timepiece is designed to help you survive. Whether it's the countdown dive zone, the SOS in Morse code or the 300-meter water resistance, these timepieces will be your trusty companions and help you conquer any conditions. These special details combine with the legendary ability of Luminox watches to perform in extreme situations, making the partnership with Bear Grylls perfect in every way. Even Luminox's motto, Every Second Counts, dovetails flawlessly with Grylls' Never Give Up. The watch comes with an orange strap including a compass.
Chronograph
 This timing function is separate from the main time-telling function of the watch can be used to record events and operated by two pushers on either side of the crown. The top pusher can be used to start/stop the timer and the bottom can be used to reset the timer. This stopwatch can be used as a reliable tool in various survival situations...remember: EVERY SECOND COUNTS.
Compass
 To use your watch as a compass in the Northern Hemisphere, point the hour hand at the sun. The imaginary line bisecting the hour hand and 12 o'clock is your north south line. (Not accurate in lower Latitudes below 20°.) In the Southern Hemisphere, point 12 o'clock at the sun and then bisect that and the hour hand. The compass is a watch band feature that can be easily slid on and off your watch strap. The compass is a basic orientation device and the presence of alternate magnetic fields could affect the accuracy. 
 Always Visible
 Of course, all the Bear Grylls Survival models feature Luminox Light Technology (LLT) so that the watch is visible in any lighting conditions and will remain visible for up to 25 years.
We ship from our own stock, held in our UK warehouse. Place your order by 15:30 Greenwich Mean Time for same-day dispatch.
United Kingdom
Orders over £30 ship free of charge.
EU
Orders below £200 ship for £6.00 
Order above £200 ship free of charge.
Rest of World
£12.50 shipping on all orders
Call us on 029 2167 1422 or Contact Us