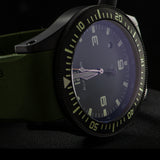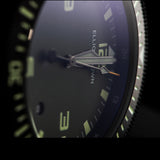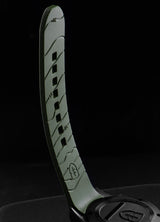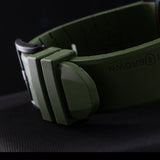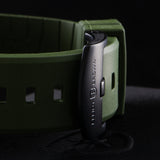 Elliot Brown Holton Professional 101-002-R04
SKU: EB-101-002-R04
Prepare to run out of superlatives! Elliot Brown Watches have something not many watch brands can boast; real integrity, a passion for the product that oozes out of every bezel and an almost obsessive attention to detail. They have a collaborative history with many elite military units around the world and have created designs used in uniquely tough environments. And, like those select military groups, their confidence in the quality does not need broadcasting. These watches are out of the ordinary and not your everyday. Take a look at the spec and the evidence. It speaks for itself...you won't need to be told again!
Developed in response to a request from a specialist branch of the military, the Elliot Brown Holton Professional 101-002-R04 is a fit-for-purpose professional watch capable of a life in the field. The Holton Professional series is the first British made military issued watch in over ten years. It is the subject of intense testing, surviving some of the most hostile conditions imaginable. Every single watch goes through rigerous testing before issue.
Bezel:

 

high grip, uni directional divers bezel case hardened to 1200HV Vickers hardness with matt PVD coating whose hardness matches that of the hardened bezel. Highly resistant to marking and provides an outer layer of protection for the watch. The high grip texture enables the bezel to be turned by gripping the sides or pressing downwards and the fine hobnail pattern ensures the bezel can't be caught on anything, turning it accidentally
Case:

 

316L stainless, anti reflective gunmetal PVD, treated with an anti-fingerprint coating that naturally repels mud and grime. PVD thickness 0.8 microns so it wears beautifully for years - the maximum possible thickness without loss of definition on case detailing (approx twice the industry standard thickness). Every watch is individually pressure tested to 200m at several points during production 
Crown:

 

easy to use yet highly protected. Deeply recessed, screws down into watch case, triple sealed, hobnail knurling for secure grip, 4H position keeps it out of harms way
Dial:

 

easy to read at a glance day or night with a military bearing that's relevant and familiar. The hour markers are bold C3-coated parallelograms reminiscent of 1970s military dive watches, brought up to date with our trademark 12-3-6-9 cardinal graphics, with a white triangle at 12H to help orientate the watch when it's dark
Hands:

 

clear differentiation between hours, minutes and seconds hands with minimal chance of confusion. Short stubby 'sword' hour hand, long slender parallel minutes hand with pointed tip that reaches precisely to the minute markers. The seconds hand has a fine amber painted tip and C3 filled arrow head counterbalanced by a dark gunmetal 'lollipop'
Crystal:

 

bevelled 2mm sapphire with anti reflective coating applied to the inner surface to minimise glare for perfect visibility in all light conditions. To pass QC, every crystal must be capable of withstanding an impact applied 3 times by a 17mm steel ball dropped from 0.5m
Movement:

 

Swiss Ronda calibre 715 with low-battery/end of life indicator that prevents the watch being issued with a low battery. It is housed inside a proprietary shock protection system consisting of a steel housing suspended by elastomer shock absorbers. Projected battery life is approximately 3 years
Strap: Made from premium olive green rubber, this strap was specifically designed for sports, outdoors, and use in and on the water, as it doesn't absorb water like leather or webbing, and isn't as heavy as a metal bracelet. All 22mm Elliot Brown straps also fit
Strap fixing:

 

solid steel strap bars that screw directly into the case shoulders, driven by a 5-lobe head so that the driver (included with the watch) can't slip or climb out, ensuring simple and fast strap changes whilst also providing maximum security - no spring-bars to break
Caseback: bolted down using hex bolts creating a perfect compression seal and correct tension for the shock absorption system. Multiple surfaces minimise skin contact for comfort and bolting the case down ensures the case back logo and detailing are always aligned perfectly
We ship from our own stock, held in our UK warehouse. Place your order by 15:30 Greenwich Mean Time for same-day dispatch.
United Kingdom
Orders over £30 ship free of charge.
EU
Orders below £200 ship for £6.00 
Order above £200 ship free of charge.
Rest of World
£12.50 shipping on all orders
Call us on 029 2167 1422 or Contact Us